Marben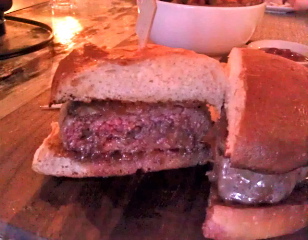 Marben
お気に入りニューアメリカン。
雰囲気もプレゼンテーションもとても好きです。
最初に登場のパン、添えてあるsoybean oilの香りがとても良い。
水耕栽培でキレイなピンクのオーガニックビーツサラダ、
強すぎないgoat cheeseソースとのバランスが良く、
とてもとても美味。
携帯カメラでは「キレイなピンク」がわからない。
むぅ、どうにかせねば、、、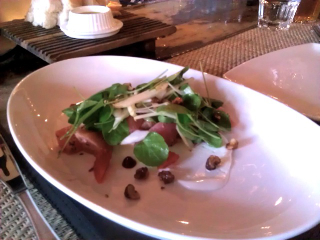 This is my current favorite New-American in town. Started with bread served aside a wonderfully aromatic soybean oil, followed that with the cutest (again, I need better photos to prove how cute it was... working on that) hydroponic pink beet salad and just the right amount of goat cheese sauce, and then my veggie other-half's butter and sage gnocchi – just SO delicious. Mmmm.
さて、お目当てのバーガー。
濃厚ジューシーだけど脂っこすぎず、質の良さがわかるパテ。
ん〜しあわせっ
若干小さめだけど、ちょうどよい量でした。
ただ、うっすらと甘い、野菜煮込みソース(だと思う)
がかかっていて、お肉との量バランスも良いのだけど、
個人的には甘かったのが残念。
ピザにパイナップルが好きな人にはきっと完璧。
バーガー単品で行くとNota Beneの勝ちなんですが
全体のコーディネートに座布団4枚。
次は月に一度のPig Roastの時に来よう。
ちなみに、ベジ殿のバターとセージのニョッキ、素晴らしいっ。
写真の素敵な「
トロントで暮らすブログ
」
のMAKOTOさんが言うように
多すぎるくらいのバーガー屋で溢れかえるトロント。
食べ歩きに事欠かず有り難い話ですが
いつの日かラーメンもこのくらい盛り上がってくれないかなぁ
と夢見る私。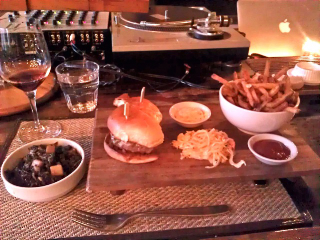 Finally, onto my main course: JOHN'S BURGER. You can taste the quality of the meat: juicy and tasty, yet lean and delicate. If only the vegetable sauce pasted on the meat was less sweet, it could have been top ranked: possibly even above Nota Bene Burger.
STILL, I'd like to give 4 zabutons for their presentation as a whole. They make good cocktails too. I will be back for their monthly pig roast. YUM.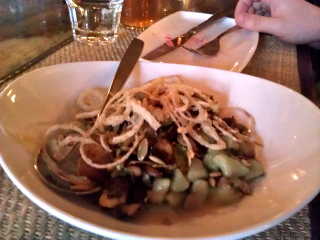 Butter & Sage Gnocchi