Tokyo Kitchen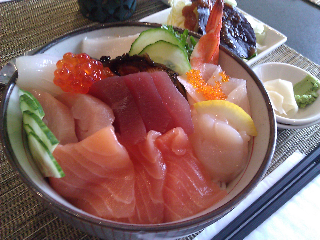 Tokyo Kitchen
「ちらし寿司食べたい病」にかかった様子。
お手頃寿司ランチがあるということで気になっていたこのお店
仕事の合間に黙々と歩いて訪ねてみました。
勝手にあると思い込んでいたちらし寿司、メニューにない、、、!
しかし、とても感じの良い店員さんが快くワガママを聞いて下さり
$15.99でお魚たっぷり、大満足のランチにありつけました。
酢メシ、もうちょっと酢が利いていたら嬉しいな
とさらにワガママなことをボヤいてますが
他のテーブルに並んでいた天ぷら弁当やカレーも美味しそうです。
また行きます。座布団2枚。
次はどこのちらし寿司にしようか。
Chirashi-sushi = Sashimi over sushi-rice bowl.
I've got a serious Chirashi-sushi craving.
Tokyo Kitchen
did't have Chirashi on their menu, but they were friendly enough to make a special Chirashi for me. I could use a bit more vinegar in their sumeshi (vinegared rice), but it was filled with all sorts of fresh sashimi, and my craving was satisfied. Tempura bento-box lunch and curry-rice on other tables looked great too. Definitely will go back. 2 zabutons.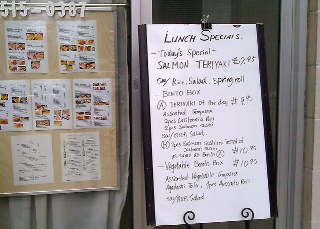 2012-03-29(11:04) :
Food :