Thai Noodle
Thai Noodle
kensington Marketに行くと
タコスか、このタイの麺屋か、で迷う。
2年前、2泊だけ滞在したバンコク。
どうしてもローカル屋台麺の食べ歩きをしたくて
うだる暑さと時差ボケでふらっふらしながら
それでも仕事の合間に2軒はしごして
倒れそうだったけど幸せだったのを思い出す。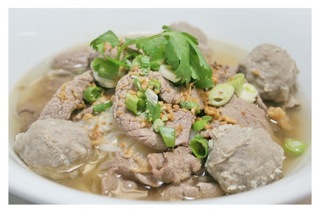 Guey Tiew Ruer Nuer
スライスビーフとビーフボール、モヤシの入ったスープヌードル
お店の自慢の一杯らしい。うまい。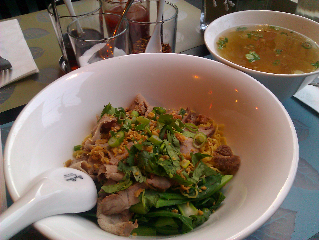 Ba Mee moo dang
汁なし麺に豚ローストと野菜。これにフィッシュソースだのSrirachaホットソースだのをお好みでふりかけて食べる。サイドでスープ付き。これもまたうまい。
ベトナムのフォーも好きだけど、タイ麺も好き。
この屋台で食べる感じ、飾り気のない美味麺に座布団3枚。
ちなみに、愛想良くカワイイ店員さん
食べ終わった頃ニコニコしながらテーブルにやってきて
「今日はどこにいってたの?」と無邪気に聞かれた。
タイでは「いい天気ですね」な感じで使う挨拶なのか(その日は天気もよかったし)
レストランで聞かれたことのない新手の質問に
「え、、、っと、家で仕事してました」とか真面目に答えてしまった。
Guey Tiew Ruer Nuer & Ba Mee Moo Dang at Thai Noodle:
After I shop at Kensington Market, there is usually a debate whether to finish the day off with tacos or thai noodles. This simple noodle shop reminds me of my 2-night-only stopover in Bangkok, where I powered through my weariness and used my limited non-working time for local street food hopping. I was struggling with jet-lag and the hottest tropical humid air I've ever experienced, so I must have looked like a zombie begging for a bowl of noodles. Yet I was definitely a happy zombie with those bowls full of joy. I've had their soup-noodles and soupless-noodles above, both are my favorite. 3 Zabutons.
BTW, last time I was there, a friendly puppyish waitress came by with the bill at the end and asked "So, where have you been??" with a big smile. That's a funny thing to be asked in a restaurant, no? That line in Thai must be an equivalent of "How are you?" or "Nice weather today". But I got confused for a second and answered like "Um... home, working all day...???", feeling like a kid trying to hide something...
2012-04-05(08:48) :
Food :