Food Truck Issues and Somebody's Grandmother
ニューヨーク特派員の、くりちゃんさーーーん!!
「旨味」と「侘び寂び」のわかるアメリカ人、
クリちゃん
。
NY中心に、食Burogu音Burogu特派員として
トロント以外の美味なる記事を送ってくれます。
一本目は近頃NYで大流行のフードトラックについて。
簡単な日本語訳は最後に。
Ladies and Gents, let me introduce Kuri-chan, 食Burogu音Burogu's field correspondent/my dearest friend in NY who thinks his tongue and stomach are Japanese. I trust his taste buds and believe he has yummy info that everyone should know about.
**********Please welcome,
Kuri-chan!!
**********
Why hello! くりちゃん, your field correspondent, reporting for duty, bringing you news of delicious noms from places outside of Toronto.

I begin with a confession: today, in 2012, I am super suspicious of mobile food trucks. It didn't use to be this way, and it's not for the reason you might think. In fact, when I first moved to New York, I used to run all over the city trying all the street meat and falafel and sausages and dumplings and tacos and tortas. A stroll down 6th avenue in midtown gave a hungry office worker about 10 basquillion different food options, all for under 4 dollars and all served in under 4 minutes.
Most impressive of all was that most of these carts represented a typically American, typically New York story – that of the first generation immigrant who seizes her piece of the American dream by cooking an authentic piece of her home country from a food truck on the street. Everyone wins: the food truck proprietor is making a living with very little overhead cost, and the customers are getting a chance to taste something exactly the way it would taste in, say, Mexico City or Singapore or Islamabad, probably made with love by someone's grandmother.
Then, all of a sudden, circa 2008, I saw a new food truck, unlike any I had seen before. It had… a logo. It looked like… graphic design. This was the Rickshaw Dumpling Truck, which I have since made the scapegoat for the evils of the current food truck market in NY. I couldn't believe the prices: $6 for an order? My favorite dumpling spot at the time charged $1 for 5 dumplings, and that was even a brick-and-mortar storefront. Even more irritating was the actual product - bland, flavorless crap, clearly inspired by nobody's grandmother.
How did this happen? Rickshaw co-founder David Weber's bio says it all:
Since he first set up a lemonade stand at the end of his driveway at the age of eight, David has been fascinated by business efficiency.
[barf]
Prior to joining Rickshaw, David worked as a consultant for American Management Systems and the World Bank advising businesses around the country and around the world.
RED ALERT.
David's business plan for crappy overpriced dumplings worked - there was a line down the block. And now, 4 years later, we live in a new food-truck reality – a world of long lines and high prices, fake-authentic food with well designed menus.
So now I tread carefully and am skeptical of every new truck I see: is it the real deal or is it some M.B.A.s pet project? In the spirit of Yogi Rice's recent foray into the Tacos of Toronto, I present the Mexico Blvd. Truck, NYC: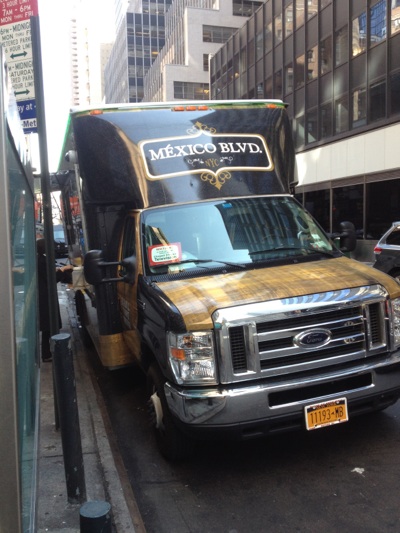 I was extremely suspicious of this truck when I saw it parked on E. 47th st. between Lexington and 3rd ave. In fact, I walked right past, intending to have lunch at Onya, the earth-shatteringly-good-udon-place down the street. But Onya was already closed, and I was hungry hungry hungry. So I gave it a whirl.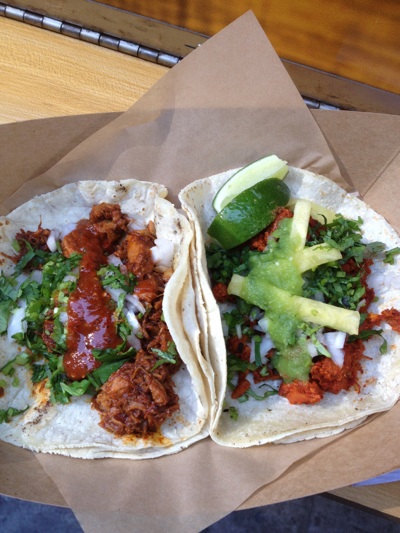 Adobo Taco "Pork loin marinated for 24 hours in
our great grandmother's
adobo" - $3
Absolutely delicious, these dudes' grandmother made a super rich sauce perfectly balanced to the awesome shredded pork. Holds its own against any taco I've had in the city, truck or no truck.
Pastor Taco "Pork tenderloin marinated in our three chiles sauce, served with cilantro, onion & a pineapple slice
Also wonderful, spicy but refreshing and full of richness.
Both these tacos were serious winners. And the price was right. And they were quick - there was no line when I was there (although I admit it was not at lunch-rush). So what's the deal, who are these guys? Surely there is a business savvy person involved, but it still seemed authentic. So I checked out their website and found this page:
http://mexicoblvd.com/story.html
Lo and behold, the story behind this truck is a sweet story of a father and son team sharing the food and culture they grew up with in Mexico - maybe my cynical aversion to the food truck fad is unfounded after all! I'm hoping there are lots more of these that pop up around the city.
***************
2008年以降、「人力車」ってお洒落なロゴの入った餃子トラックが、ダウンタウン、ダンボエリアを徘徊し始めたと思ったら、これがすごい勢いで大ヒット。それに続け!とあちこちで、新しいフードトラックを見かけるようになった。このRickshawトラック、経済コンサルタントの経歴を持つビジネスマンのアイデアらしいが、$6でかわいい箱に餃子が5、6個はいってる。一個$1だよっ!クリちゃんは、メキシカンだのアラブ系だのシンガーポール系だの、昔ながらニューヨークならでは「安い早い美味い」移民フードトラックファンだったので、そんなに美味しくもなく、お洒落なトラックにかっこいいデザインメニューの新手トラックの出現に憤慨だった様子。
そんな中、Mexico Blvdのタコス、メチャ美味しいらしい。NYで食べたタコスの中で一番ですって。
なに!! 次にNYを訪れたら探しに行こう。
くりちゃん、リポートありがとう。
2012-04-08(18:34) :
Food :