The Stockyards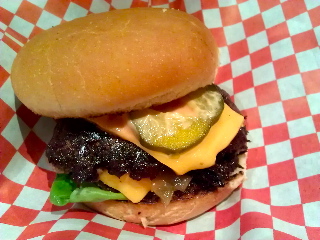 The Stockyards


うまい。
St. Clair west にあるバーベキューレストラン。
カウンター席のみのローカルな感じ
「今日の野菜」の香ばしいロースト芽キャベツ
カラっと揚がったポテト
バーガー1個$7.50からの値段設定
いつ行っても元気ハツラツのお姉ちゃん。
つきましては座布団4.5枚なり。
トロント個人的バーガーランキング、トップに躍り出ました。
今回はビックマックのようなThe Animal Burgerを堪能しましたが
グリーンチリバーガーも、火、金、日曜限定スペアリブも
隣の女性が唸りながら食べていたフライドチキンも
何度でも食べに行きたい。
あーあ、どうやってカロリー消費しようかな、、、
Things I LOVE about this place:
- Amazing food (had the animal burger today – fantastic!)
- Counter-only small space with a friendly, local hub-type atmosphere.
- Green of the day = roasted BRUSSELS SPROUTS with lardon.
- Prices start at $7.50 for a burger.
- Always happy, fun lady hosting.
I mark 4.5 Zabutons, which tops my personal Toronto burger ranking
Things I can't wait to go back for:
- Green chili cheeseburger
- Tue, Fri, and Sunday only BBQ ribs
- Fried chicken (which caused the girl at the table next to me to literally groan with pleasure)
So many calories to burn...