Earl Gray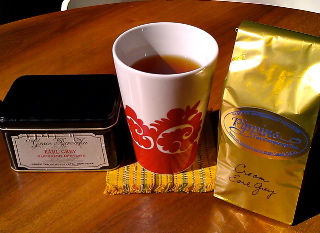 20代まで一日何杯も飲んでいたコーヒー
ある頃からさっぱり飲めなくなってしまって少々寂しい
今でもあの味恋しさに、ベジ殿のカプチーノを一口だけ盗む私。
という訳で、毎日飲む紅茶、いろいろ試してます。
毎朝お世話になるアールグレイ、お気に入りは
Grace Rare Tea
 (写真左)
アールグレイ独特の香りの素、ベルガモットが強すぎず
飲み続けても飽きないのが良い。
Beachesにある紅茶屋さん、
Pippins
ここのアールグレイはいまいちでしたが
お店のおばちゃんが誇らしそうに「中毒になるわよ」と勧める
Cream Earl Greyはとても美味しい。ほんのりバニラの香り。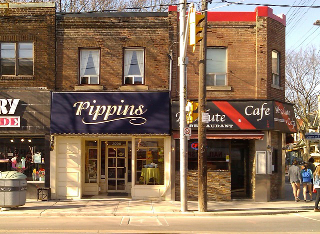 バニラの香りと言えば、フレグランスティーでは
マリアージュフレールの
マルコポーロ
が素晴らしい。
高くて自分ではなかなか手が出ないけど。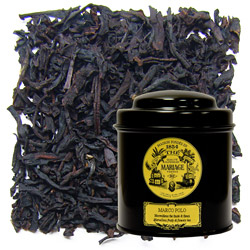 日本の「お土産/贈答品」文化が懐かしい。
何かのお礼やお祝いにちょっとした物、、、
っていうとマルコポーロを買って行くのが好きだった。
厄介でもあるんだけど、あれは楽しい習慣だよなぁ
Sadly, my tummy stopped liking coffee several years ago, so now I can only occasionally lick the delicious cappuccino made by my veggie other-half. Boo.
Instead, I drink 3-6 cups of tea each day. My everyday favorite is Grace Rare Tea's earl grey, which has just the right amount of bergamot fragrance.
Pippins
in Beaches has "Cream Earl Grey," which the proprietor (owner?) proudly calls "crack, the addictive tea." I like this a lot with a hint of vanilla. Their regular earl grey's bergamot is a bit too strong for me.
Speaking of vanilla, Marco Polo by Mariage Freres is so special, a beautiful blend of all sorts of aromas. It's expensive, but back in Japan, this was my favorite choice for the "gift/souvenir culture" needs. "Giving a gift" in Japan is a symbolic gesture, showing that he or she cares about you. People are constantly giving and receiving gifts to each other at every occaision. A gift, not just for a wedding or birthday, is given for being a new neighbor... going on vacation... celebrating the end of the year or end of the summer... Not a bad country, eh?
2012-04-16(09:15) :
Food :