Soba Salad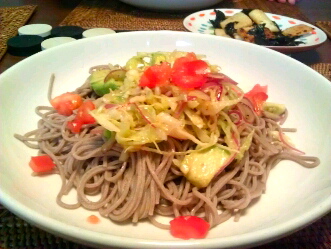 むはは。天才だなこれは。
蕎麦とアボガドがムショーに食べたくなった。わさび醤油で。そして冷蔵庫でくたばりかけたキャベツもなんとかしたかった。
水にさらした後、塩揉みしてよく水分を絞り切った千切りキャベツと赤玉ねぎを、オリーブオイル、醤油、わさび、ごま、みりん、粉末だし、酢、であえる。よく熟れたアボガドも入れてまたあえる。分量は適当。。。トマトでちょっと色気を出す。冷たいそばの上に盛る。所要時間15分。
ウマイ。天気のいい日の昼ご飯。サラダソバ。
これ、醤油の変わりにナンプラーと、生コリアンダーもちらしたらタイ風で更に旨いかも。
I might be a genius, for real. I really wanted to eat avocado and soba. Together. Also I had to finish the cabbage in the fridge. Here is what I did with them:
- boil the water, cook the soba as indicated, wash in cold water and put it on the plate.
- While boiling and cooking soba, thin slice the cabbage and red onion and sprinkle a pinch of salt and mix by hands, leave it for 5min.
- Rinse the salt, leave them in cold water for 5min.
- while leaving them in water, mix olive oil, soy sauce (good one. important), wasabi, vinegar, mirin, dashi powder ( I used seawead powder for my Veggie other half, but fish powder must be good too), sesami seeds into bowl and mix them like a salad dressing.
- drain the cabbage and onion from the water, squeeze them tight to get rid of extra moist, mix with the dressing and well ripen avocado cut in cubes.
- top the soba with the cabbage/onion/avocado/dressubg mix, sprinkle tomatoes on top also cut in cubes. I would have added sliced cucumbers if I had some...
YUM. The whole thing done in 15min.
It could be also super yum, adding cilantro and Nam Pla(fish sauce) and make it Thai style. Mmmm....