Japan vol.3
麗しの差し入れランチ集。
Awesome lunch time.
まい泉の、ミニカツバーガー。直径5センチくらい。
ホントにもう、美味しいに決まってるじゃないですか。
まい泉ですもの。かわいいし。
Mini cutlet burger by Maisen. Tiny size about 5cm, excellent idea. So cute, so good.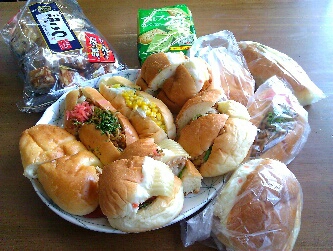 手作りパン屋さんの惣菜パン。
野菜パン、焼きそばパン、フィッシュパン、クリームパン、、、
Home style pastries. Vegggie salad, yakisoba (fried noodle), fried fish, custard cream...Mmmm.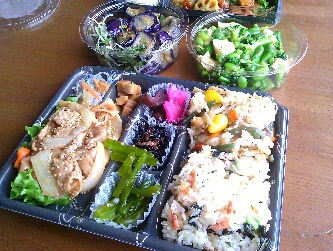 米八のおこわ弁当。550円。
生姜焼きに桜えびおこわと、山菜おこわ。大好きな銀杏入り。
となりの惣菜屋さんで枝豆とタケノコの春サラダ、ナスのマリネ。
美しい。
Okowa. Steamed sticky rice with all kinds of things in it. This time I picked the one with dried baby shrimp and mountain vegetables, comes with ginger pork. 550yen. Beautiful.
ほっぺたが落ちそう。ってかわいい表現だと思います。
私のほっぺた、何度も落ちてなくなっちゃう。どうしよう。