QMP
Queen Margarita Pizza
お気に入りご近所スポット
日本から訪れた妹を引き連れてピザ大会
3コースで$27のPrix fixをオーダー。
Our favorite pizza joint in the hood. With my sister visiting from Japan. We ordered $27 Prix fix.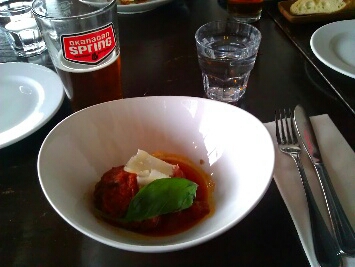 まずはビール、妹がオーダーしたOkanagan 1516がいける。
ブリティッシュコロンビア出身だそうです。
お気に入りに追加。
そしてアペタイザーのミートボール、うまいっ
フワッフワのお肉に新鮮トマトソース。
I loved the beer my sister ordered. Okanagan 1516 from British Colombia. Then, the appetizer meat ball was amazing. Tender and tasteful meat with fresh tomato sauce. Mmmm...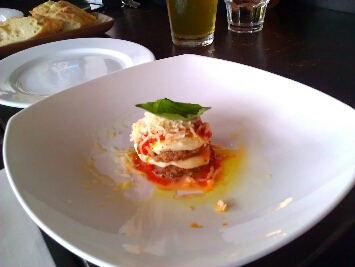 こちらは揚げたナスとモッツァレラ。
これもまた美味。
Eggplant and mozzarella di bufala. Also great.
Matteo. トマトベース、マッシュルームにリコッタチーズ
シシリア風、モッチモチピザ。いいねぇ。
キノコの香りたっぷり。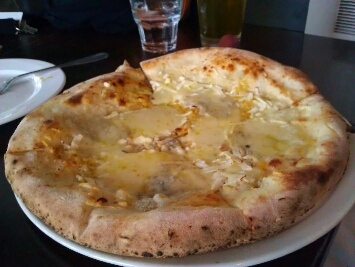 これ、4種のチーズってやつ。
ふとるぅ。でも最高。
妹曰く、東京の本格ピザ屋でこれを頼むと蜂蜜と出てくるそう。
じゃ、やってみよう、と蜂蜜を持ってきてもらう。
プーさんもビックリ。とけそうにうまかった。
残念ながら、デザートはどれもピンとこなかった。
それでも座布団三枚だな。
Quattro fromaggi. By my sister's recommendation, we ordered a side of honey to pore on top. This was a brilliant idea. It's addictive...
Unfortunately, all the desserts were so so. But, I'd still give 3zabutons for the precarious meal we had.
2012-07-15(14:35) :
Food :