Ramen Totto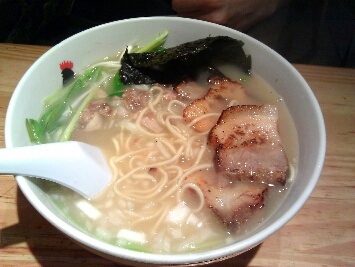 はい、2度目の登場になります、Totto。
嬉しさのあまり食べ始めちゃった写真を一枚
これはお決まりの白湯ラーメン。
鶏ガラベースにポークチャーシュー。
相変わらずうまい。
Second appearance here. Ramen Totto. I was so excited to be back that I almost forgot to take a picture of this beautiful chicken broth ramen with juicy pork chasyu. Excellent as always.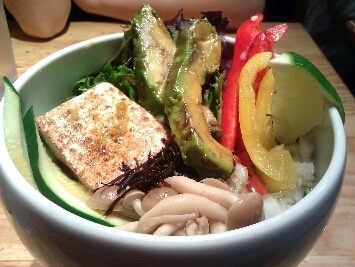 これ、噂に聞いて気になっていたベジタブルラーメン。
アボガド入っとるっっっ
なんとまあ。これが美味しかったんですよ。
どんなことしてだしを取るのか知りませんが
新手のラーメンです。サラダ麺ともまた違う。
焼き豆腐に柚子胡椒、さっと炒めたシメジ。
かなり手がかかってます。
やっぱりここ大好き。無制限座布団ものです。
Here is the vegetable ramen ive been curious with. Never have imagined, avocado and yaki-tofu with yuzu kosho on it! (roasted tofu with Japanese citrus pepper) Oh my. It was wonderful. I don't know what they use for the broth but i definitely like this new concept of it. Unlimited Zabutons.