Izakaya high light
今回も堪能してまいりました。
離れてみて有り難みがわかるもんです
やっぱりニューヨークの日本食事情はレベルが高い
Back in NY. Now that I experience it only as a visitor, I'm able to appreciate how easy it is to enjoy high quality Japanese food here.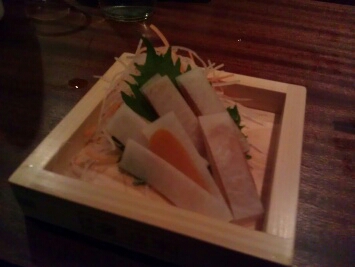 まずは、新しくお気に入りに追加、Yopparai。
ロウアーイースト、4月にオープンしたばかりだそうです
何を頼んでも一品一品に気合を感じます。
お店の雰囲気も素晴らしい
お値段高めのメニューですが、納得。
これ、うす~く切った大根に包まれているのはカラスミ。
First, a new addition that is now my favorite izakaya in Manhattan. Yopparai, opened last April on the lower east side, is a thoughtfully coordinated combination of food, staff, and ambience. Look at this Karasumi, sandwiched in super thin daikon (Japanese radish). Fantastic.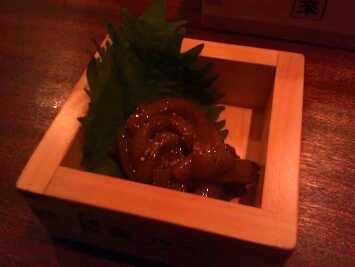 そして塩辛。イカスミで和えてあるんですが
バーナーで真っ赤に焼いた鉄のお箸で混ぜてから出てきます
そうすることで香りが高まるそうな
芸が細かいっ
Shiokara (squid, fermented in squid guts) is mixed with squid ink. Right before it is served, they give it a stir with red hot iron chopsticks, which enhances the fragrance of the ocean... You can't get any more sensitive than that. How beautiful!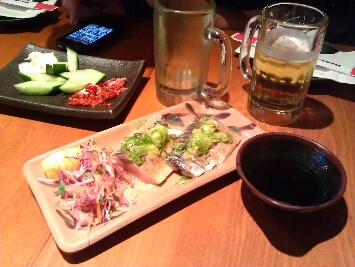 続きまして、ミッドタウンのお手頃居酒屋、Hagi。
リンカーンセンターで仕事の時はしょっちゅうお世話になります
しめ鯖のあぶり焼きにもろきゅう。
これだけで何倍でもご飯が食べれる。
Next spot is my Japanese foodie friend's hub, Hagi. We often end up here after working in or around Lincoln Center. Pictured: seared shimesaba (pickeled mackerel) and moro-q (cucumber with moro-miso). I could eat bowl after bowl of rice with this.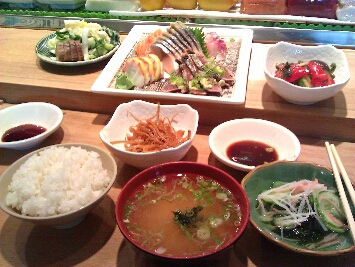 締めはやっぱりブルックリンの芸道ですな。
久しぶりに帰ってきて開口一番「シメサバ定食やって」
との我儘リクエストにしかめっ面の大将
おかえりスペシャルでこんな豪華なことに。
涙ものじゃ。
私には居酒屋ランキング世界一です。バンザイ。
満喫満喫。よく働いてよく食った。
さ、トロント帰るぞ!!
Geido in Brooklyn deserves to be the finale of my highlights. The grumpy-faced chef takes my "shimesaba set" requrest, and this is what he serves. It's like a "welcome back" meal, and I could almost cry. Oh how I miss this place!
I worked hard and ate well during this visit. Banzai to NY. Time to go home now. (I missed you too, Toronto)