Pupusas
Emporium Latino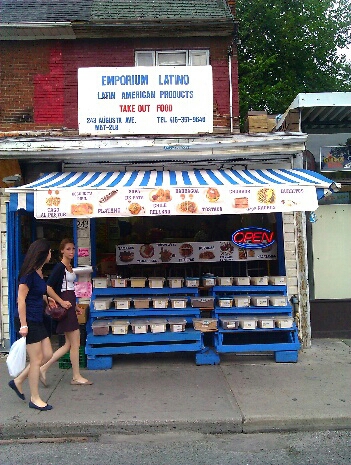 ケンジントンマーケットで小腹が空いたらここに入ります。
When I get the munchies in Kensington Market area, I go here.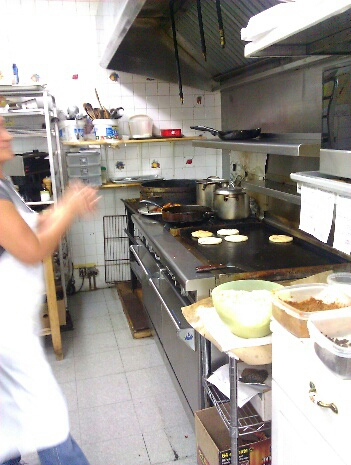 メキシコ食材屋さんみたいな小さな店内、ずんずん中に入って行って
レジでPork Pupusasを注文し、
レシートを一番奥の調理エリアに渡します。
おばちゃんがその場で生地の中にレッドビーンペーストと
豚肉とチーズを手慣れた手つきで丸め込み焼いてくれます。
焼き上がるのに結構時間がかかります。
It looks like a tiny mexican grocery deli, but you go inside to the register and make an order from the menu on the board. Then take the receipt to further back of the shop, where the lady is making all sorts of goodies on the iron plate. I get the pork pupusas with cheese. (it could take pretty long till it's done)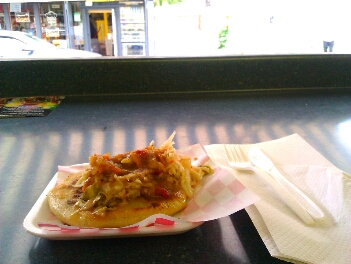 出来上がったのを店先のちっちゃなカウンターエリアで
行き交う人々を眺めながら食べます。
There is a small counter area where you can eat your delicious pupusas in the front of the shop, and watch funny people walking by on the street.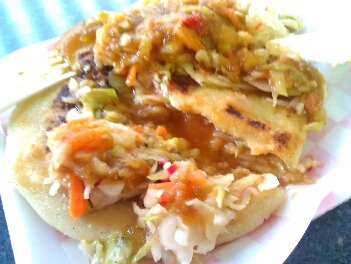 半分に割るとこんな感じ。
かりかりもちもちの生地の中にジューシーお肉とお豆。
野菜のピクルスにホットソース。結構辛い。
これで$3。うまい。座布団3枚。
Here is how it looks when split in half. Crispy on the outside, melty in the inside, pickled veggies and hot sauce on top. Beautiful. $3 for this. 3 Zabutons.