Corned Beef house
Conred Beef House
デリスタイルサンドイッチ
ってね、あの良さは日本人にはあまり良くわからない。
と思うのは私だけだろうか。
ニューヨークに行ってすぐの頃、
友人が誇らしげに連れて行ってくれたCarnegie Deliの
そそり立つローストビーフサンドイッチを食べて
なんだか良くわからなかったのを憶えている。
量に圧倒されるのもあるけど
「肉も野菜もバランスよく好き嫌いなく食べなさい」
と日本で育った健康優良児としては
あそこまで肉だけの塊が出て来ると腰が引けるのかもしれない。
なんか悪いことしてるみたいな。
必ず付いてくるピクルスも野菜というよりは
主張の強い箸休め、だしな。
ハンバーガーでさえ、美味しいやつはトマトだのオニオンだの
野菜も楽しむ要素の一つになってるわけで。
しかしデリサンドイッチは「
肉
を食う」食べ物である。
In 1998, shortly after I moved to NY, a friend took me to try the famous Carnegie Deli. I remember having no idea what to make of the gigantic pile of roast beef that was placed before me. I wonder if it's a Japanese thing to not be able to appreciate this sort of "deli-style sandwich." Growing up hearing the typical Japanese parents' line "you have to eat both meat and vegetables in balance," that pile of meat just looked like a big chunk of guilt. Sure, it usually comes with a pickle. But that's more of a "meat enhancer" than a vegetable. In my mind a deli sandwich was just wild American food.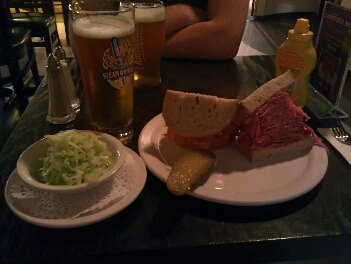 ベジ殿の同僚でかなりなグルメ、それも肉専門グルメの彼が
熱心に勧めるCorned Beef House、食べてみようと行ってきた。
お店自慢のコーンビーフサンドイッチに
罪悪感やわらげを図ってコールスローも頼む。
これがまた、美味しかったんだな。
コーンビーフってこんなにジューシーなんだ。
とか感心しながら、ピクルスもいい脇役になってるし
コールスローもさっぱりフレッシュだし。
(マヨなしスローってのも結構うまいのね)
座布団2枚くらいだろうか。
これを美味しいと思うのは
昔食べたのが美味しくなかったのか
舌がアメリカン/カナディアンになってきたのか
どうなんだろう。
今度誰か日本から遊びにきたら食べさせてみよう。
しかしやっぱり「あれ食べに行きたい〜!」には至らない気がする。
My veggie other-half's coworker, who happens to be a connoisseur of meat, passionately recommends Corned Beef House. So I tried it. I ordered their famous corned beef sandwich, with coleslaw to ease my guilt, and a beer. Hmmmm, I was stunned that corned beef can be so juicy and tasty. Along with the mayo-free coleslaw, which was nice and crispy, I actually enjoyed the whole experience. I'd give it 2 zabutons.
My question now is had I never experienced a good deli sandwich before, or is my Japanese tongue and tummy just becoming Americanized? (North Americanized, I should say now). I'll have to take my sister there next time she visits from Japan and see what she thinks. My preconception that "Japanese don't understand the deli sandwich" might be evolving. Although, I'm still not sure I would crave it very often... Once a year will do.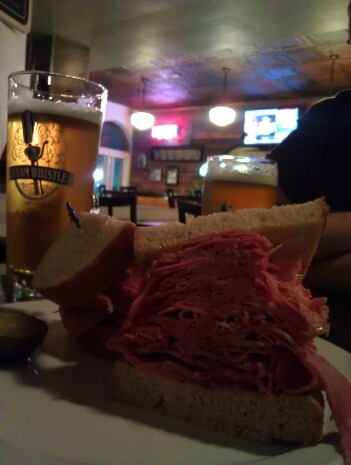 2012-08-27(14:52) :
Food :