Dubrovnik vol.3
ただいま。トロントです。
なんともまだ現実の世界に頭が戻らないので
麗しのバケーションハイライト。
Back in Toronto. Can't switch my brain back to the reality yet, so let me post the hightlights of Dubrovnik...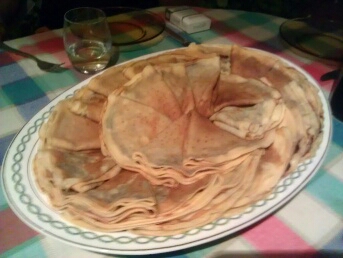 セルちゃんの奥さんがある日、パパーっと作ってくれたクレープ。
ヌテラ入り、マーケットで買ってきたオレンジを絞って
甘く煮たソースにくぐらせてから食べる。
パパーッと、こんなにたくさん。魔法使いに違いない。
One of the best thing I had. Hand made crepe with Nuttela inside, with fresh orange sauce. My friend made so many of them in such a short time, like it was a piece of cake. It looked like a magic to me, and it tasted magical too.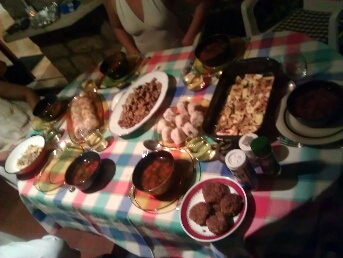 「日本食」ってどんなもの?というおかーちゃんに
お礼の気持ちを込めて、日本食ナイト。
限られた材料でかなりアレンジ入れつつも
豚生姜焼き、鮭おにぎり、梅ごまおにぎり
豆腐のマリネ、みそ汁。大ウケなり。
Japanese food night. I made ginger pork, salmon rice balls, ume and sesame rice balls, marinated tofu, miso soup. Lots of improvisation with limited Japanese seasonings, but came out not too bad. I think they liked it...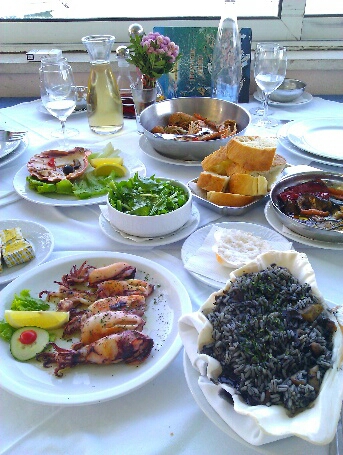 小さな港町Stonまで、車で一時間半の日帰り旅行。
セルちゃんおすすめの魚介レストラン。
写真の他に、生牡蠣もムール貝のフライも食べまくって、
4人でしっかりワインも飲んで、お会計50ユーロ。
えええっっっ?素晴らしい。
A day trip to Ston. A small port town with salt farm, 1.5hrs from Dubrovnik. Our main event is to hit their favorite seafood restaurant. All of this in the picture plus soup, fresh oysters, fried mussels and wine, for four people, the bill was around 50 euro. whaaaaa?? Fantastic.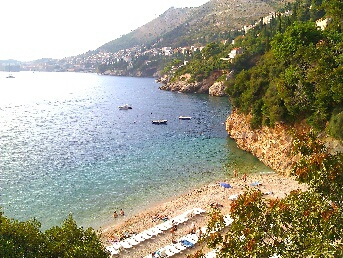 セルちゃん家周辺のいくつかあるビーチの中でお気に入りスポット。
遠方に古都を眺めながら透明度の高く、波のない海にプカプカ。
アドリア海は内海なので、風のない日は湖みたい。
おとぎ話に出てくる様な美しい港町、いつかまた行こう。
My favorite beach by our friend's house. A beautiful pebble stone beach where local families hang out. Looking over the old city, swimming in the very calm waveless Adriatic sea is luxurious. Dreamy vacation days in Dubrovnik, we miss it already. Hope to go back there again sometime.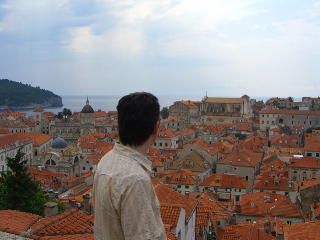 初登場、ベジ殿。古都を外壁から眺める。
My veggie other half, looking over the old city from the city wall.
2012-09-16(16:57) :
Food :