First bread!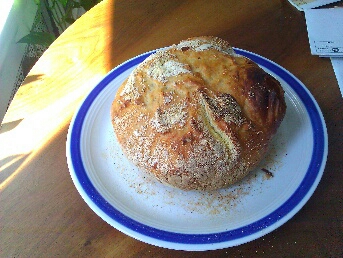 仕事山積み+締切間近+休暇モードが抜けない=現実逃避
ということで、初めてパンを作ってみた。
これがまた驚くほど簡単に出来る。(言い訳)
「捏ねないパン」で大流行りのレシピ、
ルクルーゼの鍋(鋳鉄製の鍋)があればできる。
粉と塩とドライイーストと水を混ぜて半日置いておくだけ。
Piled work + approaching dead line + can't get out of the vacation mode = making bread. This is how I escaped from the reality yesterday. This is my first time making bread, with "The no kneed bread" recipe. It really works great. Mix the ingredients, and leave it half day and bake it in cast iron pot.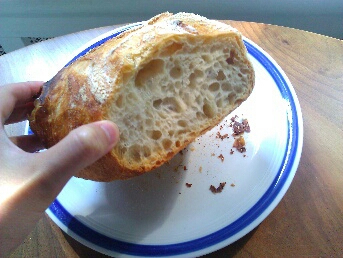 かりかりもちもち、スーパーで買うパンよりよっぽどウマイ。
現実を考えて青くなりながら出来立てホヤホヤを食べる。
さて、仕事するかね。
Crispy outside and super soft and chewy inside. Enjoyed it while it's till warm. OK, back to work now.
2012-09-18(12:41) :
Food :