A day in NY
2週間移動続きのツアー中。
一日だけニューヨークでオフ、ブルックリンにて食べまくり記。
昼ご飯。
パークスロープ、
Hanco's
のベトナムサンドイッチ。
刻みチキンサンドとタロ芋タピオカティー。
やっぱりここのが一番うまい。
A day off in NY, filled with delicious meals in Brooklyn. Started the day with a lunch at Vietnamese Sandwich joint in Park Slope, Hanco's. Shredded chicken sandwich and taro tapioca tea. I love this place the best.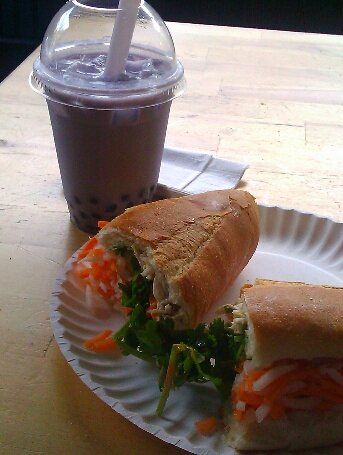 夕飯其の一。
キャロルガーデンに新しく出来た
Dassara
。
脱サラ、から来てるらしい。3人の外人シェフコラボ。
フュージョン系ラーメンなので期待せずのトライだったのが
中国と日本が仲良くひとつのボールに収まったチキンラーメン、
これがけっこう旨い。食の親善大使。
八角の効いた豚角煮とゆでたチャード(日本語ではフダンソウ、ですと)
がこっくり、かつ重すぎないチキンスープに良く合う。
First dinner. Dassara in Carroll Garden. A new ramen shop by three non-Japanese chefs. Despite my low expectations, this fusion ramen very much pleased me and Chri-chan, my Japanese food gourmet friend. Nice corroboration of China and Japan in the Chicken Ramen I had, with pork cooked with Chinese star anise, rainbow chard in a rich and flavorful but not too heavy chicken broth.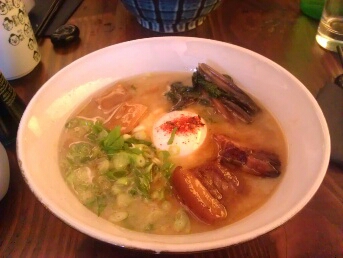 初登場、日本食グルメの友、クリちゃんが食べてるのは
西安ラーメン。ラム肉だの香菜だのたっぷり入って
だいぶ「らーめん」からは遠い感があるけどこれもまあいける。
その他、サイドオーダーでししとう、ハツ揚げ、韓国餅
などなど食べたけど、どれもオシイ。
次はジューイッシュコラボの「デリラーメン」を食べにきたい。
ラーメンのみに座布団3枚。
Chri-chan's Xi'an ramen was also interesting, although I liked chicken ramen a lot better. Other than ramen, we had some shishito peppers, hatsu-age, and rice cakes as appetizers, they were all just OK. I give 3 zabutons for their chicken ramen. I'd love to go back for the Deli ramen which is a fusion with Jewish taste...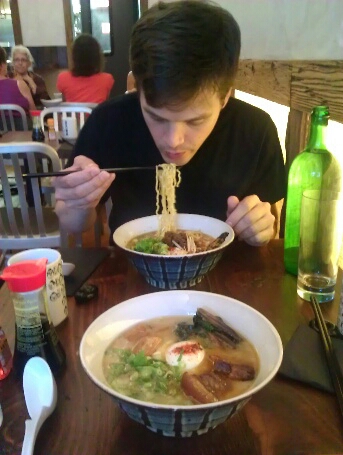 夕飯其の二。
一杯だけ、のつもりで帰りに寄った芸道。
こんな顔で「おかえり」してくれました。
甘鯛かしらの煮付け、イカ刺し、浅漬け野菜、
秋田名産いぶりがっこ(いぶした大根の漬け物)。
外食続きで疲れた胃が泣いて喜んでおります。
しかし食い過ぎの一日。
トロントに帰るまであとちょっと。
質素な「おうちご飯」が恋しくなってきた。
Second meal at Geido. I meant to stop by to say hello, and I got hello back from a fish head. Chef's special menu of the day (not on the menu), with squid sashimi and Iburigakko (smoked and pikkeled daikon-radish). Taste of home, my stomach was very happy.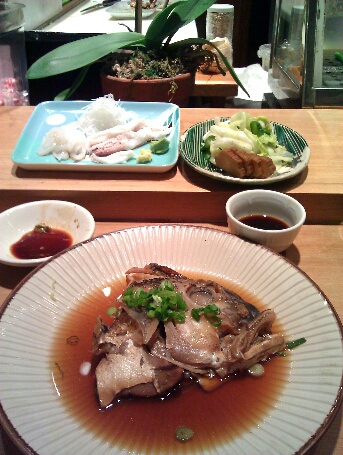 2012-10-08(11:20) :
Food :