Take Sushi
前から気になっていた竹寿司
Union stationからすぐ。
Woceanさんと一緒に行ってきました
話に花が咲いて気が付いたら閉店近くまで居座った二人
久しぶりの日本酒も堪能、満喫の夜。
I've been wanting to check out this Sushi restaurant, Take Sushi. Located near by Union station. Finally made it there with my new friend, wocean. We had a nice time at their sushi bar counter with endless conversation accompanied wih sake till the closing.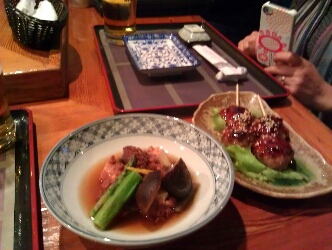 まずは前菜から。
写真はつくねとタコの煮物。
他にいわしの梅シソ焼きも。
Appetizers: chicken balls and stewed octopus. We also had umeboshi (pickled plum) flavored grilled sardine.
季節のスペシャル、サンマ!秋ですな。
半分は刺身に、半分はにぎりで。
生サンマ、トロントではなかなか食べれないとか。
Seasonal special, Brevoort! My friend says this fish is a rare find here in Toronto. In Japan, it's a most typical fish to eat in the fall.
その後、お寿司をアラカルトでいただきました。
料理も寿司も、なかなか美味しかった。
(つくねは若干かためだったけど)
店内はいわゆる海外の日本食屋、の感じで
落ち着けるカウンター、テーブル席とボックスもあり。
値段さえ気にしなければ、
気軽に楽しめる寿司、居酒屋というところでしょうか。
Woceanさんとのお話が楽しくてとても良い時間を過ごせましたが
(woceanさん、ありがとう!)
んんん、しかし、座布団は一枚。
トロントで旨い日本食にありつけるだけでも
幸せといえばそうですが、
超新鮮ネタ、超洗練された料理、というわけでもなく
ごく普通の居酒屋料理、にあのお値段は高い。
高いけど美味しいから通う、または
まあまあだけどお手頃でいい店、がないものか。
Then we had bunch of a la cart sushi. Atmosphere of this place is like a typical "Japanese restaurant" , with counter seats, some tables and a few box seats. I'd say It's a very decent sushi joint IF you don't care about the price. I did enjoy the dinner because of the fun conversation with my friend, but have to rate the overall experience of the place as just 1 zabuton. Their food is good but not like super amazing or creative. It's too expensive for what it is, I don't think I'll go back again. I'm still hoping someday I will find a japanese restaurant in Toronto that's either "pricy but so worth going" or "ok food but reasonable and cozy"...