Chuko
大変だ。
どうもこの頃ラーメンが忙しい。
トロントでは山頭火がオープンしたそうな。
旅先にいる時に限ってそういうニュースが入る。
早く帰って食べに行きたいっ。
ところで
ニューヨークのラーメン事情、素晴らしい。
ブルックリンのヴァンダービルトにある
Chuko
感動の座布団5枚。
NYの有名レストランMorimoto出身シェフ3人のお店。
しかしあの辺はずいぶんオシャレになったな〜
マヨネーズ屋さんも3軒となりにオープンしてたし。
Knowing that Santouka Toronto has it's opening this week while I'm in NY, I can't wait to savor it as soon as I get home. But meanwhile, the NY ramen scene is still hot and sizzling. I was truly amazed by the new spot Chuko in Prospect heights, Brooklyn, opened by three chefs from the famous NY restaurant Morimoto. I'd like to give 5 zabutons for their excellent presentation.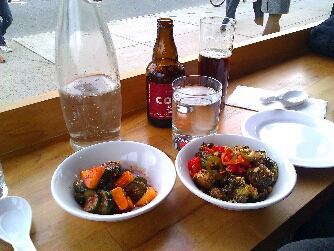 日本食通のクリちゃんと、アメリカンラーメンねぇ、、、
なんてえらそうにしながら
スパイシーピクルズとクリスピーブラッセルズをオーダー
(キュウリと大根の韓国風漬け物と芽キャベツロースト)
二人とも味見してすぐ目を合わせてニヤリ。
何とセンスの良い!うまーーーいっ
Chri-chan the Japanese foodie and I ordered spicy pickles and crispy brussels for appetizer. After the first bite, we just looked at each other and nodded several times. Both dishes are done really nicely.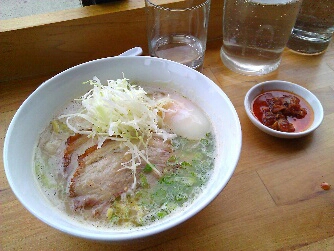 普段あまり興味のない味噌ラーメン
今回はふと頼んでみることにした。
大成功。非常に美味しい。
鶏ガラスープに近い控えめな味噌ベーススープ
トロッとした食感でコクがあるけどクドくない。
Miso ramen is not usually my first choice, but I was in the mood this time. And it turns out it was an excellent choice. This might be my absolute favorite miso ramen. The mild miso flavor soup is similar to a really excellent chicken broth, with just the right thickness that's not too dark but is quite flavorful.
ちょ〜ど良い脂加減のトロトロチャーシューに
茹で加減完璧の温泉玉子、たっぷりキャベツにもちもちのちぢれ麺。
拍手!
The chasyu has the nice balance of meat and fat, and melts in your mouth. The perfectly cooked Onsen-tamago (poached egg), tons of thin cabbage to refresh the palate, and chewy solid curly noodles were all spot-on.
Standing ovation!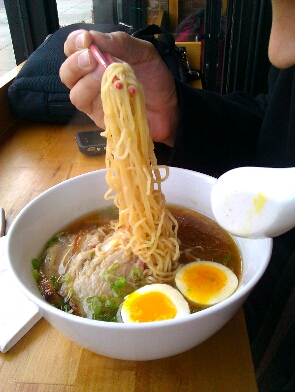 こちら、くりちゃんの醤油ラーメン。
これもまたあっさりで良い。細めのちぢれ麺。
でも統括的な一品としては味噌ラーメンに軍杯が。
いやいや、お見事。参りましたな。
Here is Chri-chan's soy ramen. This also was very tasteful, with thinner curly noodles and light soup. Although, I'd say the quality of miso-ramen is one notch higher. Mmmm, I couldn't stop moaning with delight as I finished this bowl.
トロントもがんばれ!山頭火と雷神を楽しみに帰ろうっと。
Dear Toronto, there is still a long way to go, but we are on the right track. I hope Santouka and Raijin are doing a great job. Can't wait to go home and check them out.