Burger Stomper
Burger Stomper
ブロアストリート、リバーデールエリアにあるバーガー屋さん。
今年の10月に出たBlogTOのトップ10入りしたニューフェイス。
チーズバーガー、お持ち帰りで試してみました。
New burger joint on Bloor street, in Riverdale area. It was picked in BlogTO's top10 Toronto burgers, last october. I tried their cheese burger and fries to go.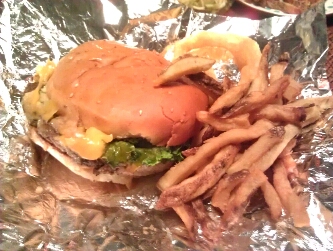 やっぱり持ち帰りだと、どうしてもシナシナになっちゃう
写真もグッタリで良くわからない、、、
出来たその場で食べたらきっとだいぶ味が違う。
Burger's Preistと違ってテーブルもいくつかあるようなので
次回はお店で食べたいところ。
自慢メニューらしいミルクシェーキと一緒に。
(すごいカロリーだけど美味しそう)
ここのお肉は冷凍しない、新鮮、ってのがこだわりのようです。
気合い入ってるだけあってお肉はとても美味しかった。
しかし、バンがなぁ、パサパサするのが残念。
ボリュームもしっかりあるし、満足でしたが座布団は1.5枚。
その場で食べたら評価が変わるかな?
Take out Burgers are tricky. Things end up soggy by the time you open the bag at home. I bet it tastes a lot better right on the spot, I will try that next time as I see they have some tables to eat in (not like Burger's Priest where NO seats available). And maybe try it with their milkshake, sounds like a super high calories combo but looked good.
Their never frozen, fresh triple A meat patties are done very well. I liked the style and taste of it. Although, not really a fun of their buns, too dry and light. I'd give 1.5 zabutons for now, might change if I get to try again at their shop.