Japan 2013
じゃん。日本の美味いもの、第二弾。
Gourmet journey from Japan, vol.2.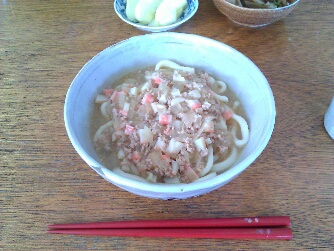 これはですね、90歳のオバアが作る「味噌うどん」です。
久しぶりにリクエストしたら喜んで作ってくれました。
玉ねぎ、挽肉、ナルトのみじん切り、味噌、ごま油、片栗粉、以上。
んんんーまいっ。
Grandma's Miso-udon. She is still so sharp and healthy at 90 years old, and she is most happy when we make requests from her yummy repertoire. This one is my all-time favorite noodle dishes in the world. Simply made with miso, ground meat, fish cake, onion, sesame oil, and starch. It tastes heavenly!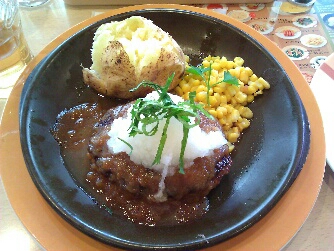 帰国前から「ハンバーグ」が食べたくて食べたくて。
ちなみに、ハンバーグって日本食ですよね。完璧に。
欧米にはハンバーガーやミートローフはあっても
こうやって鉄板で出てくるハンバーグはありません。
ハンバーグの王道、ファミレス・ジョナサンの
オニオンソースハンバーグセット。ドリンクバー付き。
あー楽し。
I had a craving for this typical Japanese-western dish for long time. I don't even know how to spell it correctly. It's a thing called "hamburg," pronounced "ham-ba-gu." It's just a hamburger patty, but served as though it is a fancy grilled steak. It usually comes with some delicious sauce on a sizzling iron plate, with the side of corn and potato. I had it with caramelized onion sauce with grated daikon and shiso leaf on top. It is exquisite.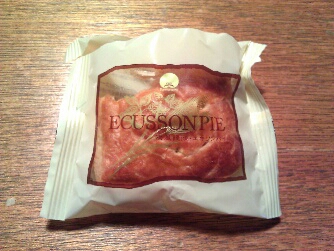 最後に、福島県郡山市の老舗、百万石のエキソンパイ。
子供の頃から大好きだった。
しっとりパイ生地の中にクルミと小豆のペーストが収まってる。
これも、郡山から上京してきてくれたオバアのお土産。
ちなみに百万石の、ままどおる、も美味しい。
皆様お近くに寄られたら是非。
I've been a fan of this "ecusson pie" since childhood. Ecusson? Meaning "badge" in french...wha? Anyways, it's a tiny pie with walnut-azuki paste inside, made by the old-established sweet shop Hyakumangoku in Fukushima.
トロントに戻って思わず体重計に乗ってしまった。
1.5キロ増し!!
あきゃ。ま、いっか。幸せだったし。
Gained 1.5kg from this trip... Well, it was worth that much. No regrets!