Tacos in Toronto
タコスの話。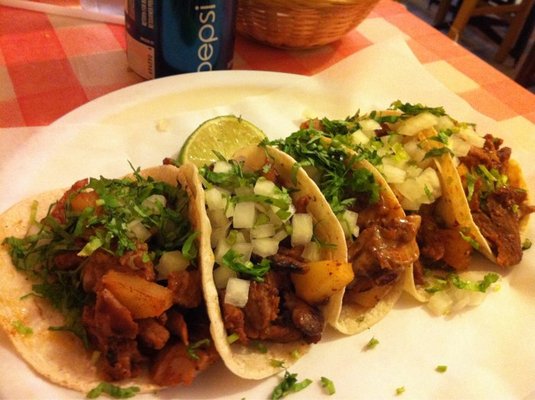 テキサス州はヒューストン出身のベジ殿。
9年前、始めて一緒に実家を訪れ
お父さんもベジ殿も幼馴染も誇らしそうに
あらゆるスタイルのメキシコ料理店を連れ歩いてくれた。
Tex Mex:テキサススタイル
Upscale authentic Mexican:高級本格メキシカン
Taqueria tyle authentic Mexican:ファーストフード系
New Mexico style Mexican:ニューメキシコスタイル
California style Mexican:カリフォルニアスタイル
そのころはメキシカン初心者で何食べても同じものに見えるし
帰ってしばらくは「豆も見たくない」だったのをよく覚えている。
9年後
雪の日に1時間もドライブしてトロントの美味タコス探しに燃える今日。
On my very first trip to Houston (my veggie other-half's hometown), he proudly introduced me to all kinds of Mexican cuisine almost everyday we were there. Growing up in Japan, it's a real foreign cuisine to us. Maybe things are different now but at least it was 13yrs ago. I definitely enjoyed everything I tried, but one week of taco overdose made me not wanna even see beans for a while after the trip. But now, 9 years after that first Houston visit, I find myself driving over an hour on a snowy day just to satisfy my taco craving...
一軒目: La Mexicanada
East bradfordというエリアまでダウンタウンから約一時間。
お店のかなりコアな雰囲気も良いし
Posoleスープ(メキシコの白いトウモロコシ煮込み)も
pork tacosもとてもいい味だったけど
ワカモレが冷凍ものだったのと、マルガリータがほとんど水なのと
ベジ殿のベジディッシュもイマイチだったらしく
残念ながら往復2時間のドライブ、リピートはなしだな。
An hour north from downtown, right off 401, we found this "deep mexico" vibe restaurant (never been to deep mexico but it must look like that). The posole soup and al pastor taco I had were great. BUT, freezer burned guacamole, stale chips, watery margarita turned my veggie other half down... don't think we'll be hitting the road for this place again.
二軒目: Frida
フリダ・カロの絵や写真が店内を彩るオシャレメキシカン
お味のほどは、可もなく不可もなし
お上品な量の洒落た盛り付けですが
メキシカンはやっぱりコジャレてるよりダイナミックでないと。
Ellington west 付近に住んでたら再訪ありだったかも。
"Cool" decor with Frida Kahlo pictures everywhere. Good food BUT... mediocre good. The only way you can get away with "fancy small portion Mexican" is by making sure the food is truly, seriously spectacular. Mexican cuisine and "hip presentation" often seem to not go together, and Frida is unfortunately another example of that fact.
三軒目:
El Trompo
やたっっ!ここは当たり。ケンジントン・マーケットにあるタコリア。
フレッシュトルティヤにシンプルな具。
パイナップル入りのAl pastor tacos(豚肉)に
赤と緑のサルサと、別オーダーのワカモレをふんだんにのせて
手をぐっちゃぐちゃにしながら食す。
オルチャッタ(ライスミルクジュース)をお供に幸せランチ。
いいね。座布団3枚。
マルガリータでディナーも良いのです。
ポソレスープ、ベジファヒータ、ケソフンディードス。良い!!
We have the winner – Simple tacos with fresh tortillas and well seasoned al pastor. Soak them in guacamole and free red and green sauce, add a glass of horchata = you have lunchtime happiness. Worth 3 zabutons. Dinner here is great too: posole soup, queso fudidos and veggie fajitas with good margaritas. SOLID.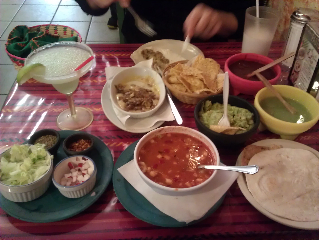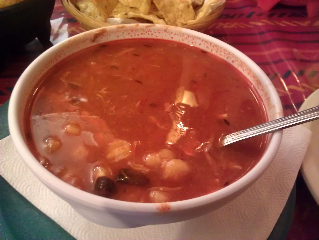 4軒目:
Milagro
テコサス出身ソプラノ歌手お勧め店
Tex Mex風の店構え。
火曜日スペシャルのマルガリータ、結構美味しく頂きましたが
アルコール入ってたのか?と感じたのは単に酒豪?
立地もあってお値段高めですが料理は悪くないです。
便利な場所とマルガリータスペシャルで、座布団1枚。
Canadian style TexMex? Food is not bad. it could be fun to throw a party here. I'd give a zabuton for the convenient location and Tuesday margarita special.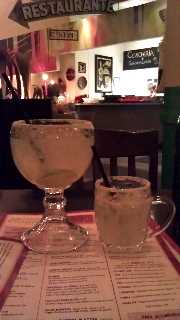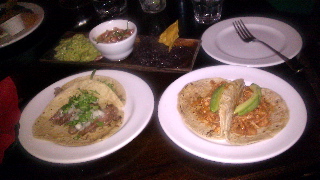 というわけでタコ探しは続く。
でもしばらくはEl Trompoにお世話になろうっと。
El Trompo wins so far. Taco quest to be continued.